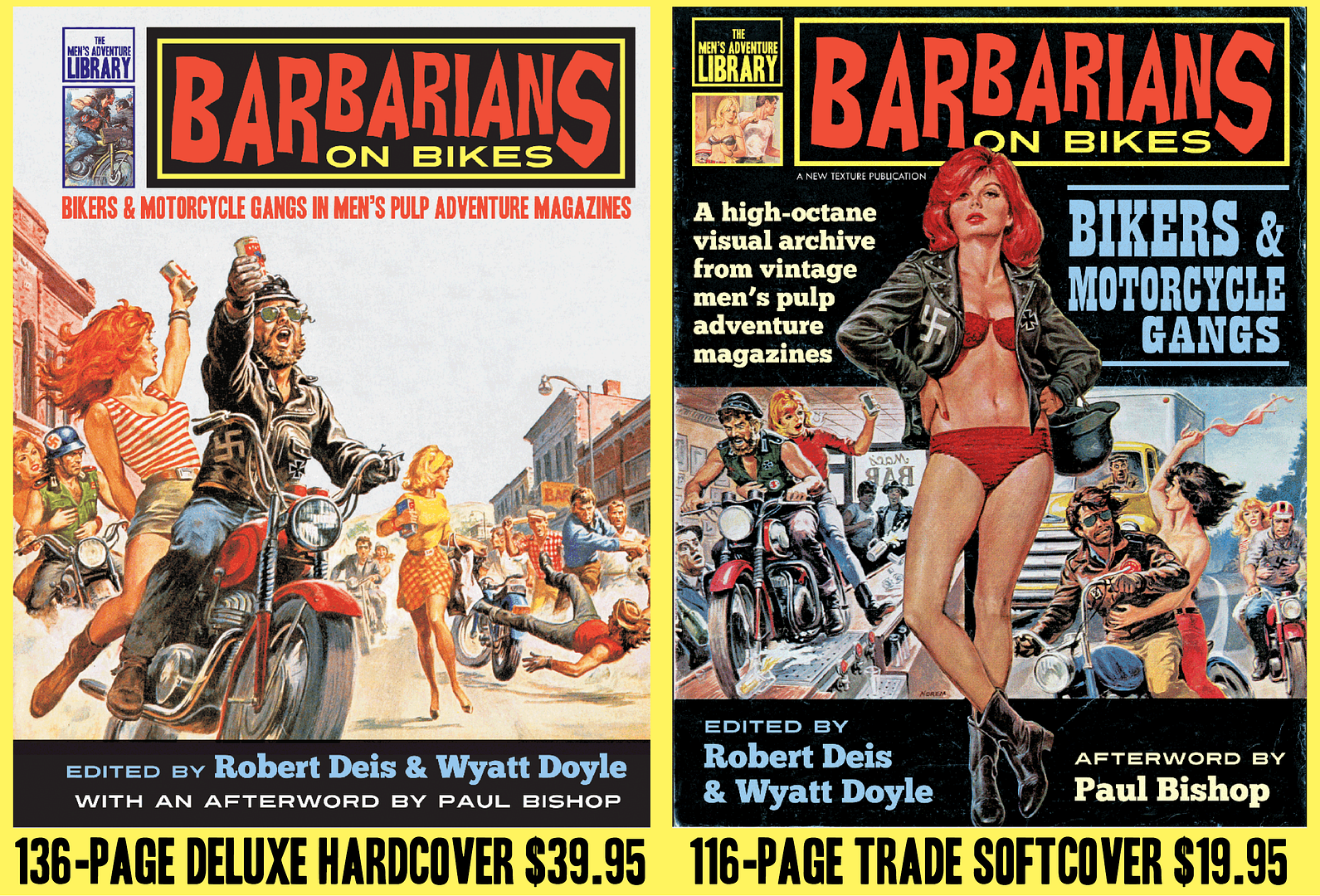 "Sex Rampage of the Cycle Savages" ... "Big Mama's Killer Cycle Army" ... "Cross-Country Blast With 'Satan's Riders'" ... "Cycle Queens of Violence" ...
The headlines in classic men's pulp adventure magazines sure could paint a picture ... and so could the masters of pulp art who illustrated them. The latest installment in the
Men's Adventure Library
shifts gears to focus exclusively on men's adventure magazine
artwork
in a new, oversized (8.5" x 11") format designed to show off these explosive pulp illustration masterworks to maximum effect.
Barbarians on Bikes
rounds up three decades of vintage pulp magazine covers and interiors depicting rowdy motorcycle action and outlaw biker gang attacks, most unseen since their original publication. A unique archive of biker illustration art at its most savage, with history and context by editors
Robert Deis
(
MensPulpMags.com
) and
Wyatt Doyle
(
Cryptozoology Anthology
), and an afterword/reality check by crime novelist/top cop
Paul Bishop
. And the
deluxe hardcover
includes an
additional
20 pages of belted and booted biker pulp art.
Barbarians on Bikes
is big, bad, and untamed.
Can you handle the ride?
Barbarians on Bikes
is available in two editions. The
deluxe hardcover
is designed for the collector, boasting superior paper and print quality, an alternate arrangement of images, plus those 20 big bonus pages packed with even more unforgettable artwork. For the merely curious, the
trade softcover
edition delivers the full-color punch of the hardcover at a lower cover price.
Barbarians on Bikes
is a high-octane visual archive, the first of its kind...
read it like you stole it!
Preview 35 knuckle-dusting pages of the Barbarians on Bikes softcover via Issuu: